Disc Injury Treatment in Newport Beach, CA
Approximately five to 20 per 1000 adults each year experience a herniated disc. The injury most often affects the lumbar spine, the lowest part of the spine. However, they can develop anywhere in the spine. Getting relief from this disc injury starts with choosing the right care and learning more about it.
Also referred to as intervertebral discs, spinal discs sit between the vertebrae in the spinal column. They are slightly pliable, making them excellent shock absorbers for the spine. They are also critical to the spine's mobility and provide the nerves an opening to leave the spinal cord and service the body.
Disc herniation occurs in four stages. These stages include:
Disc Compression
Degenerative changes, trauma, and repetitive and extreme strain can compress the spinal discs. This results in tearing the annual fibers meant to keep the disc in its proper position. During this stage, the disc's jelly-like center stays inside its structure, but it becomes irritated.
Bulging Disc
The annular fibers bulge further when a disc experiences constant loading and strain. This bulging can cause the spinal nerves to become aggravated and inflamed. At this point, the nucleus is still within the disc structure thanks to the outermost fibers keeping it in its place.
Disc Protrusion
The nucleus has a jelly-like substance that contains it. During this stage, the annulus fiber tears are significant, and in between these tears, the nucleus breaks out. The disc is starting to push on a spinal nerve. At this point, it is common to experience increased tingling, pain, and other symptoms.
Herniated Disc
At this stage, the annulus and nucleus are in the epidural space, squeezing most of the spinal nerve. While some doctors will recommend surgical intervention, chiropractors believe in a natural, non-invasive approach to restore disc health and spinal function.
Get A $49 Complete Disc Injury Consultation
A Comprehensive Workup to Address All Health Concerns
How Our Disc Injury Care Plan Works
1. Thorough
Exam
We will perform an in-depth consultation, palpate your spine for misalignments, and document your posture. Nerve scans will tell us exactly where pressure on your nervous system is causing muscle tension and affecting organ function. A chiropractor will also do a stress test and, if necessary, take digital x-rays.
2. Receive A
Plan Of Action
The chiropractor will review your test results and have you come back the next day to review their findings. They will give you their best recommendations on where to begin correcting your problem and the most cost effective way to take care of your health challenges.  Each body is different and needs individualized care.
3. Get Back
To Living Life
At Priestley Family Chiropractic, each chiropractor believes you should be able to live your life the way you choose, without physical limitations or fears of injury. When your nervous system is functioning at its best you feel better, have more energy, sleep better, concentrate properly, and are an overall better person.
How We Treat Disc Injury in Newport Beach, CA
We take a comprehensive approach to treating a disc injury, utilizing different steps and techniques to address your injury as it is unique to you and your total health.
Comprehensive Consultation and Exam
The first step in chiropractic disc injury care is the consultation. Your chiropractor will evaluate the injury as well as your total health and medical history. This makes it easier to determine the best course of treatment based on your specific situation.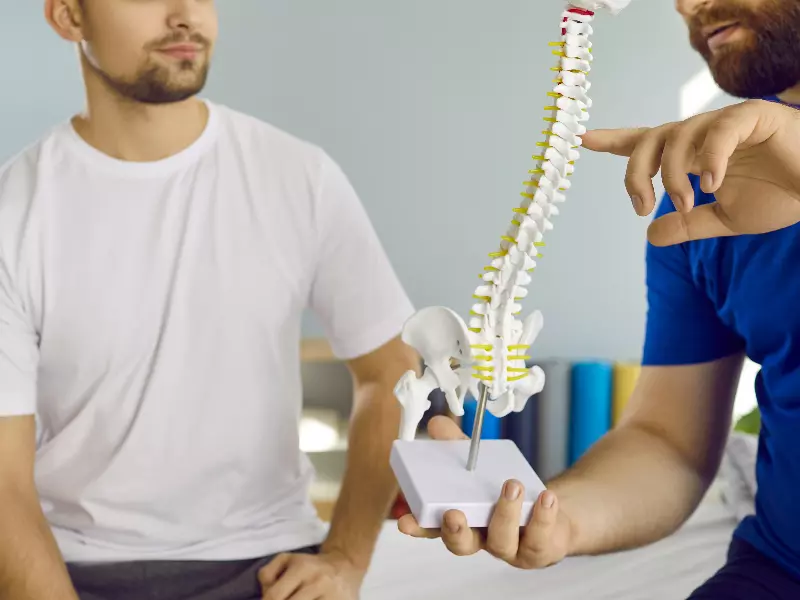 Specific Chiropractic Care in Newport Beach, CA
This type of care goes straight to the root of the problem. We can help the disc material return to its proper position and correct subluxation via a chiropractic adjustment.
Chiropractic care for a disc injury is advantageous for a variety of reasons. The first is that it is non-invasive. A chiropractor can help people with disc injuries without requiring injections or surgical intervention.
Chiropractors do not treat this issue with controlled substances. We use a variety of other techniques to help control the symptoms and heal the injury instead of just masking it with medications.
We take a holistic approach to disc injury. Instead of just looking at this injury, we evaluate your whole body. Our comprehensive evaluation makes it possible to offer advice on lifestyle factors that treat the whole person while helping with the chief concern. You can start feeling better at your own pace.
Custom Therapeutic Exercise Plan
It is crucial to strengthen the muscles surrounding the spine to prevent a disc injury from occurring again in the future. Exercise also helps to promote better mobility. We will design your exercise plan based on the results of your evaluation to address your specific needs.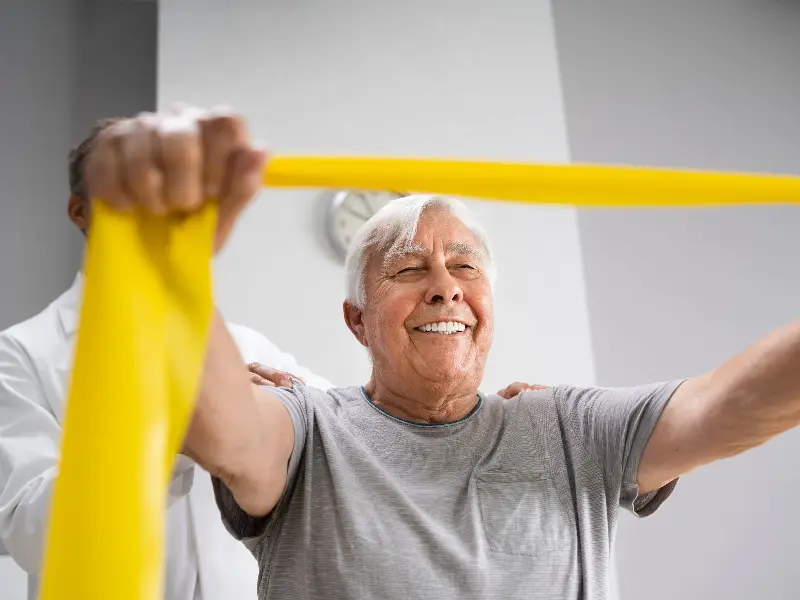 Spinal Decompression
When a disc herniates and is outside its proper position, this treatment helps it naturally return to its proper position. Decompression also promotes better nerve function by increasing joint spacing. This treatment uses gentle stretches directed at the spine.
Traction therapy creates negative pressure inside the discs and joints to reduce inflammation, reposition herniated or bulging discs, and relieve nerve pressure. It benefits people with sciatica, disc degeneration, spinal stenosis, and facet syndrome.
We use the DRX9000 Spinal Decompression System which is proven to un-bulge and un-herniate discs without surgery.
Check Out Our Online Reviews
Life changing.
Very efficient, pro, love the 7am availability.
Priestly family chiropractic thanks for your support while I'm improving thanks for those great adjustments 👍
A truly wonderful office! When I first began my treatment, I was in so much pain and discomfort. Dr. Priestly and his team helped me in one of the most challenging times of my life! About 6 months later, I am pain free and I feel so blessed for their help and support. Cannot recommend them enough!
Priestley family chiropractor is INCREDIBLE! I am a dental hygienist and have a lot of neck/back pain. I've had tingling in my neck and fingers and since I've been consistent it's gone! I always have the best experience. I will forever recommend friends, family and patients!! Thank you guys!
Dr Priestly is extremely knowledgeable and utmost experienced
Kind , sincere and quality care . Most interested in helping me in the last 20 years of needing help for pain. The girls are so sweet and Dr Priestley is so amazing I drive from South OC clear across town just for them . Toll road and long journey but so worth every dime . I have absolutely certainty that they will know exactly what you need !! Several herniated discs and gone through PT a few times , chiropractors, Pain management Dr giving me shots every three months . I had gone years without any serious help . A fall and then a car accident forced me back into the hamster wheel of bad insurance and doctors that are contracted with them but don't care to do the work . They only want that insurnace work and refer you without even really evaluating or doing a proper exam and X-rays. If you are in pain or have hernia Yoona please come here . Also he specialized in children starting as fresh new horns , prenatal and sports adjustments . Have tech neck ? They know exactly how to treat it
Elizabeth Kelleher
2023-09-18
The staff is wonderful, nice atmosphere of healing, Dr Priestley is very kind and knowledgeable.
Schedule Your Appointment Today
Common Causes of Disc Injury in Newport Beach, CA
There are several ways to experience a disc injury. Knowing the potential causes may help you to reduce your risk.
Repetitive Motion and Stress
If your repetitive movements put frequent strain on any of your spinal discs, this could result in wear and tear on those discs. For example, if you work a job that often requires you to be bent over or make awkward movements affecting your core, this could cause stress that could affect the spinal discs over time.
Heavy Lifting
Physiological changes can start to occur with heavy lifting. This can increase the speed at which the discs become damaged. Over time, this could cause injury and result in disc herniation.
Auto Accidents
When an auto accident occurs, a sudden impact on the spine is possible, and this can result in a disc injury. This type of accident can cause annular tears, bulging discs, and herniated discs, depending on the severity of the impact.
Degenerative Disc Disease
This common condition is characterized by the discs losing strength due to wear and tear. It can occur as the result of getting older or due to overuse or an injury. The discs are unable to repair themselves once the disc is damaged. While any disc in the spine can be affected, it most often affects the lower back and the neck.
Respiratory Illness
It is possible to experience a disc injury due to sneezing and coughing. When you are sneezing or coughing, this can increase pressure on the spine, which can result in leaking or rupture. Sneezing and coughing can also strain the back and increase the risk of a disc injury.
Common Symptoms of Disc Injury in Newport Beach, CA
A disc injury does not always cause symptoms. When symptoms do occur, they often depend on the location of the disc and how severe the disc injury is. In most cases, the symptoms only happen on one side of the body. The pain tends to worsen over time, and it can get worse.
Pain
Pain is one of the most common symptoms. The disc injury will determine the pain's location. It can occur at the site of the injured disc as well as in the arms, hands, neck, and legs. The pain is often shooting, sharp, aching, or dull. Pain from a disc injury can worsen with different activity levels. Pain is the last symptom to appear and the first to go away, meaning that if you are experiencing herniation pain, the injury has likely been there for some time, perhaps causing nerve irritation and dysfunction in the body.
Muscle Spasms
The spinal nerves are under pressure from a herniated disc. This can result in muscle weakness. Muscle spasms can also occur with a disc injury. If the disc is in the lumbar spine, it may put pressure on the sciatic nerve. When this nerve is affected, you may experience pain running down the hip, leg, and buttocks.
Numbness and Tingling
With pressure on a nerve, several sensations can occur. These may include pins and needles, tingling, numbness, and burning. Stiffness can also occur with this type of injury. For example, if the disc is in your cervical spine, neck stiffness is not uncommon.
Frequently Asked Questions
How long does it take for a disc herniation to heal?
The herniated disc's location and severity determine how long it takes this disc injury to heal. However, the average time for healing is four to six weeks. However, some literature says it can take up to 22 weeks, especially if you continue to do things that put stress on the injured disc. In most cases, surgery is not necessary. You can utilize noninvasive measures to promote disc healing and manage your symptoms.
What should you not do with a herniated disc?
Healing a herniated disc can be a delicate balance regarding what to do and not do during the recovery process. While some rest is important when healing, you should limit it to the first two days. After this, you want to be cautiously active. It is also important to make sure you are not sitting too much, and when you are sitting, ensure that you are using proper posture and that your spine has adequate support.
Bending over can aggravate the disc injury and cause further pain. Make sure to avoid activities that require bending. You should also avoid stretching your back too much.
Adjusting your sleeping position can help to reduce your pain and promote healing. Sleep on the opposite side of your pain. You should also put a pillow under your lower legs. Adding some lumbar support is ideal if you sleep on your back.
You can gently exercise as you are healing, but there are some exercises that you should avoid, including:
Sit-ups
Twisting exercises
Deadlifts
Hamstring stretches
Running
Contact sports
Can a chiropractor fix a pinched nerve?
Pinched nerves can be very painful, but there are ways that chiropractic care can help to alleviate the pain. A chiropractic adjustment can help to reduce pressure on the nerve so that it can heal. With adjustments, you can improve your mobility and alleviate your disc injury pain. Massage can also be beneficial because it helps to loosen the muscles associated with the pinched nerve.
In addition, your chiropractor can help you with things like creating an ergonomic workstation and using proper posture to reduce pain and your risk of another pinched nerve in the future. They may also help you create an exercise plan to help with your pain.
What does a slipped disc feel like?
Pain is the most common symptom, and it can affect the extremities associated with the nerves the injured disc is irritating. Certain movements can increase pain. You might notice that it is worse at night. The pain can increase when you sit or stand for prolonged periods.